Qualitative vs quantitative research? Ensuring the right approach
September 1, 2015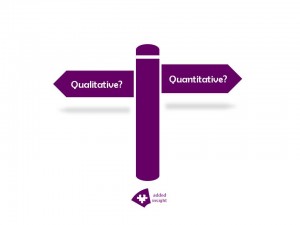 When discussing a market research solution with a potential new client, especially one who doesn't often buy research, their starting point is often: 'We need a questionnaire'.  Unaware of the different tools and techniques available, and the difference between qualitative vs quantitative research, they can tend to think the key is asking as many people as possible as many questions as possible.  Instead, a better starting point is: 'We need to understand X, how can we best find this out?'
The quantitative approach
Sometimes a survey involving a large sample that captures responses from many different kinds of people can be the right way forward.  It's often useful when needing to:
* Obtain basic data on 'who, how many, what or when' type questions (eg: how many times did you visit a supermarket last month?  Which ones?  What was your average spend? etc)
* Compare and contrast answers by gender, age or other subsets
* Be confident that the numbers are statistically sound, eg if needing to build a robust business case, calculate market share or percentage take-up, etc
Yet this kind of method is not always appropriate for tackling other types of issue.
The qualitative approach
This is more about aiming to map the mind rather than the population.  While smaller scale, often taking the form of one-to-one depth interviews or focus groups, it can be useful when needing to:
* Understand answers to 'why' and 'how' questions (eg: Why did you choose X?  How do you feel about Y?)
* Get to the bottom of important issues and barriers, such as why customers may be unhappy, why people choose particular brands, how to best position a new product, etc
* Uncover insights into human behaviour and emotions by using more open questions and indirect techniques than are possible in a 'tick box' type survey (eg: Tell me more about X … how might you feel if you had to do Y?  What makes you say that? etc)
Clients with little experience of qualitative research can sometimes question its validity when smaller numbers are being interviewed.  Yet there becomes a law of diminishing returns by overdoing it, as the same issues and concerns tend to arise repeatedly after speaking to a good audience cross section.  Plus one can always adopt a mixed approach, beginning with qualitative work before quantifying the key findings.  Or a study may start with a broader survey, but then drill more deeply into pockets of interest through follow-up qualitative interviews among a certain subset.
So it's important to first consider the kind of questions you want answered without being too prescriptive about the method.  Having an open mind and allowing research experts to guide you towards the right approach rather than jumping to the conclusion that you need to 'go large' should ensure you get the insights you need.
This entry was posted in
Qualitative Research Tips
,
Recent News
and tagged
market research
,
qualitative
,
quantitative
. Bookmark the
permalink
.